Family rooted, Future-Oriented
Barsplice began as a joint venture between two international companies looking to gain a foothold in the splicing industry with the goal of enhancing reinforcing steel projects with structural integrity.
In 1983, Barsplice Products, Inc. was acquired by the Casella family and has since been a subsidiary of FC Industries, Inc. Beginning with the visionary leadership of Frank Casella, Barsplice established its reputable foundation in the U.S. domestic market.

As the company developed, Frank saw the opportunity to expand into the global market, which paved the way for Barsplice to become an internationally recognized splicing manufacturer. Today his son, Mike Casella, is committed to investing in the best production technology and the highest quality product to contribute to its valued customers' success.
Talk To Barsplice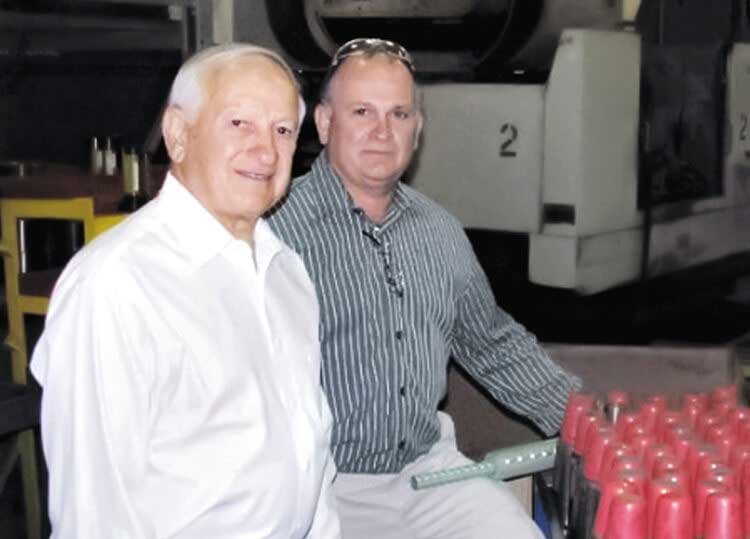 Frank and Mike Casella
Our Driving Principles:
Defining the Gold Standard
Customer service
Accurate price quotations, dependable lead times and monitored deliveries to your job site or shop floor. On-demand technical support assuring job requirements meet industry standards.
Trusted Partner
Our mission is to earn your trust through our unparalleled service and high-quality products. We approach each customer with respect and integrity, delivering on what we promise.
The Bottom Line
Through efficiencies in design and production, we offer cost-effective splicing solutions to meet your project's budget while eliminating hidden costs. Quality materials ensure top performance with competitive pricing.

From the start it was our mission to become an industry leader, and we've spent the last thirty five years making it happen. Every step was by design, solving one challenging problem after another and providing custom solutions to our partners, and their reinforced concrete projects around the globe.

Larry Alcorn

Vice President, General Manager
Modern, Exclusive Manufacturing: Maximizing Your Profits
Barsplice's innovative splicing systems are designed for simple, cost-effective assembly and field installation. Our expansive facility uses advanced and proprietary manufacturing technology.
Exclusive processes such as production of our industry-leading ButtonHead rebar terminators and threading of our Taper Threaded Grip-Twist products set you apart from the status quo, keeping prices down and maintaining inventory to match market demand.

Our state-of-the-art test lab and quality management systems give you the peace of mind that everything leaving our facility meets industry standards.